CANADA
Contact Us
Our objective is to respond to your request within one business day. Please note, our Customer Care group is available to answer your inquires Monday to Friday, 9:00 AM - 5:00 PM (Eastern Standard Time).
Please complete all required fields [*] so that we may properly assist you.
Security & Surveillance
Although there is a variety of video surveillance equipment available on the market today, Mitsubishi Electric has developed an innovative way to monitor surveillance cameras and access control within your security operations center. Our front or rear projection display wall with DLP® technology can be combined with your choice of DVR or display wall processor enabling you to monitor a large number of CCTV cameras, campus or building maps and access control information.
By combining multiple front or rear projection cubes into a larger display wall array, you are able to customize the display area to best suit the number of camera windows required, the amount of map information necessary, and the physical constraints of your security operations center. Since each cube utilizes standard DVI–D or VGA inputs, you will also be able to connect virtually any manufacturer's video surveillance equipment.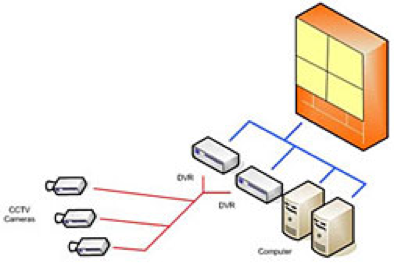 Standard Video Surveillance Equipment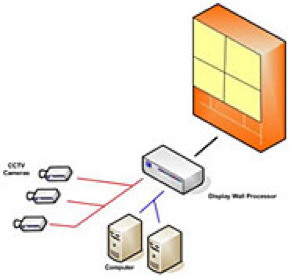 Display Wall Processor
The advantage of using display walls versus standard video surveillance equipment monitors is that the display walls offer the ability to utilize dynamically–sized video windows and the combination of video and data sources displayed simultaneously. If the display wall is outfitted with the Mitsubishi Electric display processing options, it is possible to freely move and size video or data windows without regard for physical seams or borders between display wall screens.
All of our front or rear projection display wall cubes with DLP® Technology have very high contrast and brightness levels, making them perfect for a security operations centre exposed to high ambient lighting. It also enables viewers to clearly see details within dark video images. Whether you want to utilize your current video surveillance equipment or fully upgrade to a state–of–the–art security operations center, Mitsubishi Electric display wall products enable you to dynamically monitor both video and data applications simultaneously.
Benefits for this environment
Low Cost of Ownership
Due to our reliability and new LED Light Source maintenance saving features, you will enjoy low cost of ownership for the life of the display wall.
Front Access
Mitsubishi Electric's front access Display Wall cubes employ a unique mechanism that allows the display cubes to be placed against a wall, eliminating the need for service access space behind the display. The screen swings open allowing all access for installation, wiring and service to be done through the front of the unit. This reduces the footprint required for the display wall, allowing maximum use of space.
LED Light Source
LED light source which reduces maintenance costs by eliminating the requirement to replace lamps. Mitsubishi Electric offers an LED light source that has an average service life that is approximately 10 times longer than that of conventional ultrahigh-pressure mercury lamps. Combined with the 100,000hr, ultra long service life of our fans, the average service life of Mitsubishi Electric LED display wall cubes is more than 10 years, even when operated 24/7.
Automatic Colour Space Management
Mitsubishi Electric utilizes a sophisticated colour space management circuit that allows fine tuning of colour space to meet stringent colour settings. Because the system can be set to user–defined target colour spaces, the system can automatically adjust colour space to compensate for newly introduced optical components..
Dynamic Brightness Balancing™
Each Mitsubishi Electric display wall cube is equipped with built-in brightness sensors (brightness is measured every 2 seconds). The Dynamic Brightness Balancing™ circuit then communicates the measured brightness data between all cubes and automatically performs the necessary adjustments to maintain optimum brightness uniformity across the entire display wall.
Mitsubishi Electric Sales Canada can assist you with choosing the most appropriate display wall solution to meet your specific application requirements and budget. Please contact us for more details.