CANADA
Nous Joindre
Notre objectif vise à donner suite à votre demande dans un délai d\'un jour ouvrable. Veuillez noter que notre groupe du service à la clientèle est disponible pour répondre à vos questions du lundi au vendredi, de 9 h à 17 h (heure normale de l\'Est).
Veuillez remplir tous les champs obligatoires (*) afin que nous puissions vous aider de façon appropriée.
OVERVIEW
The Jet Towel is useful in a wide variety of facilities where a high level of hygiene is critical, including hospitals, restaurants, hotels, supermarkets and all types of business facilities. Its cost-effective operation and environmentally friendly design afford operators and users with a number of distinct advantages.
User Benefits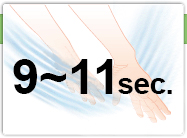 FAST
Dries hands in only nine to eleven seconds, considerably faster than other high-speed type models. Users can completely dry their hands and be on their way in a flash.
ERGONOMIC
A slim design blends form and function, with the front panel angled gently outward to allow the user to stand comfortably and naturally when inserting the hands into the trough. The open sides of the trough also allow for easier access. Great care has been taken to angle the air nozzles and position the sensors so as to prevent any water from splashing upward.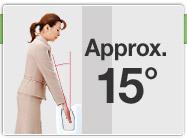 Operator Benefits
ECONOMICAL
After installation, the only cost factor is electrical power, which makes the high-speed hand dryer comparatively cheaper to operate than paper towel dispensers or cloth towel racks.
HYGIENIC
The opening and parts that come into contact with water, such as the drain hose and tank, are made of an antimicrobial resin. An inorganic silver compound is bound to the surface layer to increase the longevity of the antimicrobial effect over and above typical expectations. Built-in alcohol resistance makes it easy to keep clean. Waste water is stored in a tank for easy and convenient disposal. This is preferable to hand dryers that turn waste water into a mist for direct release into the room, thus potentially encouraging the growth of unsightly and foul-smelling fungi on floor and wall surfaces.

No treatment

Antimicrobial Treatment
CLEAN AND EASY TO MAINTAIN
As the waste water from hands is collected in the unit's drain tank, the floor and surrounding surfaces stay clean and dry. There is nothing to refill or replace (unlike paper and cloth towel dispensers), and no waste paper to pile up or dispose of. The unit itself is designed for optimum ease of maintenance.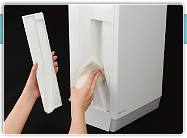 The Environmental Factor
Low impact, less waste
In terms of environmental impact, the high-speed hand dryer is an attractive alternative to paper towels, which, although typically made from recycled paper, promote litter and considerable waste.
Volume of paper towels than can be made from a single tree
A tree eight meters (26 feet) in height and 14 centimeters (5-1/2 inches) in diameter can be processed into 20,000 paper towels with a thickness of 0.088 millimeters (0.035 inches), equivalent to two months' supply (assuming that two towels are used each time, and that the dispenser is used 200 times per day).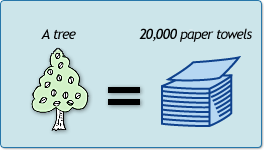 A typical company in a 10-story building
A typical company in a 10-story building uses some 320,000 paper towels per month. If the waste paper were piled up, it would total 28 meters (92 feet) per month, or 336 meters (1102 feet) per year -- or the height of an 80-story building!

LEEDS Certification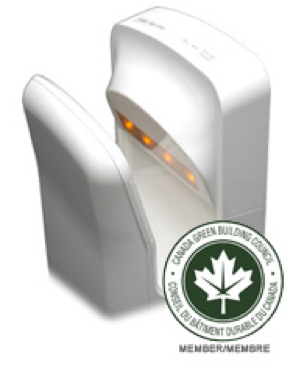 Canada, like many other countries, is experiencing a major trend towards the creation of environment friendly buildings
and facilities.

The LEED Canada-NC 1.0 Rating System recognizes leading edge buildings that incorporate design, construction and operational practices that combine healthy, high-quality and high-performance advantages with reduced environmental impact.
What makes Jet Towel Green?
Conserves energy by drying hands extremely fast and automatically sensing when hands have been removed which causes the hand dryer to automatically switch off.
Reduces material use by eliminating paper consumption and waste and reducing the impact on the environment. This can quickly add up. For example, if a company located in a 10-story office building uses some 320,000 paper towels per month, this would generate about 770 kilograms of waste paper, which is the equivalent of approximately 16 trees per month, or 192 trees per year.
GreenSpec Approved & LEED Certified
Jet Towel has been GreenSpec Approved and qualifies for the following LEED Credits:
- EA Prerequisite 2 – Minimum Energy Performance
- EA Credit 1 – Optimize Energy Performance